Posted on May 19, 2021
by
It has been over a week since the chaos started again between Israel and Palestine, which has been escalating since 13 April 2021, when clashes erupted in East Jerusalem between Palestinians and the Israeli police.
Palestinians were angry as barriers were placed outside the Damascus Gate entrance to Jerusalem's al-Aqsa Mosque on the first night of Ramadan.
Rockets were fired from Gaza at Israel on 15-16 April, and again on 24April, which then drew retaliatory airstrikes. Since then, the violence has been escalating from clashes at the Jaffa port next to Tel Aviv.
On Monday and Tuesday, 17-18 May, more airstrikes hit Gaza City as the escalating conflict between Hamas and Israel entered its second week.
According to health officials in the territory, 200 Palestinians, including 59 children, have been killed and the UN Office for the Coordination of Humanitarian Affairs (OCHA) said 52,000 people in Gaza had been relocated, of whom 47,000 had escaped to UN schools.
An Israeli military spokesman said that militants had fired around 3,300 rockets at Israel over the course of the attacks.
Israel briefly opened a border crossing into Gaza this week to allow a convoy of aid to enter. However, that was short lived as the crossing came under attack from mortars and rockets.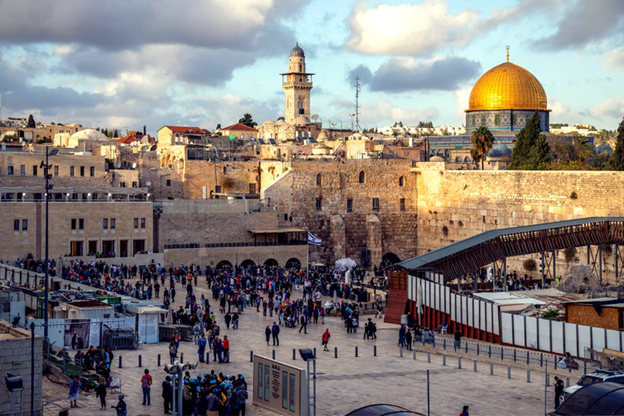 On Tuesday 18 May, Palestinians residing in Israel, East Jerusalem, and the West Bank held a general strike to show support and unity.
According to Russia's foreign ministry, Hamas stated last week that it was ready to begin discussions, although nothing further has been spoken since nor has any action been taken.
France has filed a draft resolution with the UN Security Council during a videoconference with Egypt's leader, Abdel Fattah Al-Sisi, and Jordan's King Abdullah II, calling for a ceasefire along with the US, the EU, and other nations.
Although the world is calling for a ceasefire, Israel has said it will continue its offensive for the time being to destroy any resources of Hamas and Islamic Jihad.
President Benjamin Netanyahu has signaled that airstrikes would continue, stating that militants have been put back years with their latest wave of attacks over the past week, despite pressure from global leaders to end the conflict.